Food systems are a new concept to many, and we hope that the following information provides an understanding of the the idea.
According to the American Public Health Association a sustainable food system: "provides healthy food to meet current food needs while maintaining healthy ecosystems that can also provide food for generations to come with minimal negative impact to the environment. A sustainable food system also encourages local production and distribution infrastructures and makes nutritious food available, accessible, and affordable to all. Further, it is humane and just, protecting farmers and other workers, consumers, and communities."
A food system includes the many components of how a food item is produced and how that food item progresses from production site to consumption site and beyond. That system may include such aspects as production; processing; transportation; wholesale and retail distribution; waste management; and support systems such as education, government and emergency food providers.
Above all, a food system is a complex web that impacts the ecological, social, health, and economic conditions of a community/region. A food system dictates what is accessible, affordable, and available—and therefore dictates what people eat. Considering evidence that people eat greater amounts of healthy, fresh food if it is simply made available it is clear that a healthy food system is vital for healthy eating. A healthy food system:
improves the health of community members by making nutritious food accessible, affordable, and available to everyone in the community;
teaches the value of eating healthily and how to do so;
creates a unified community around the food system and healthy eating; and
enables any child the ability to reach into a refrigerator or pantry and choose good food.
It is worth noting that food systems are complex entities that involve much more than diet and health. A food system also includes economic, food tradition, and environmental factors. (For a basic overview of food systems, the University of Vermont offers a useful primer: "What's On Your Plate."
As this website grows we hope to offer a visual guide to illustrate the many parts of the Lewiston-Auburn food system.  In the meantime, here is a visual description of a general food system: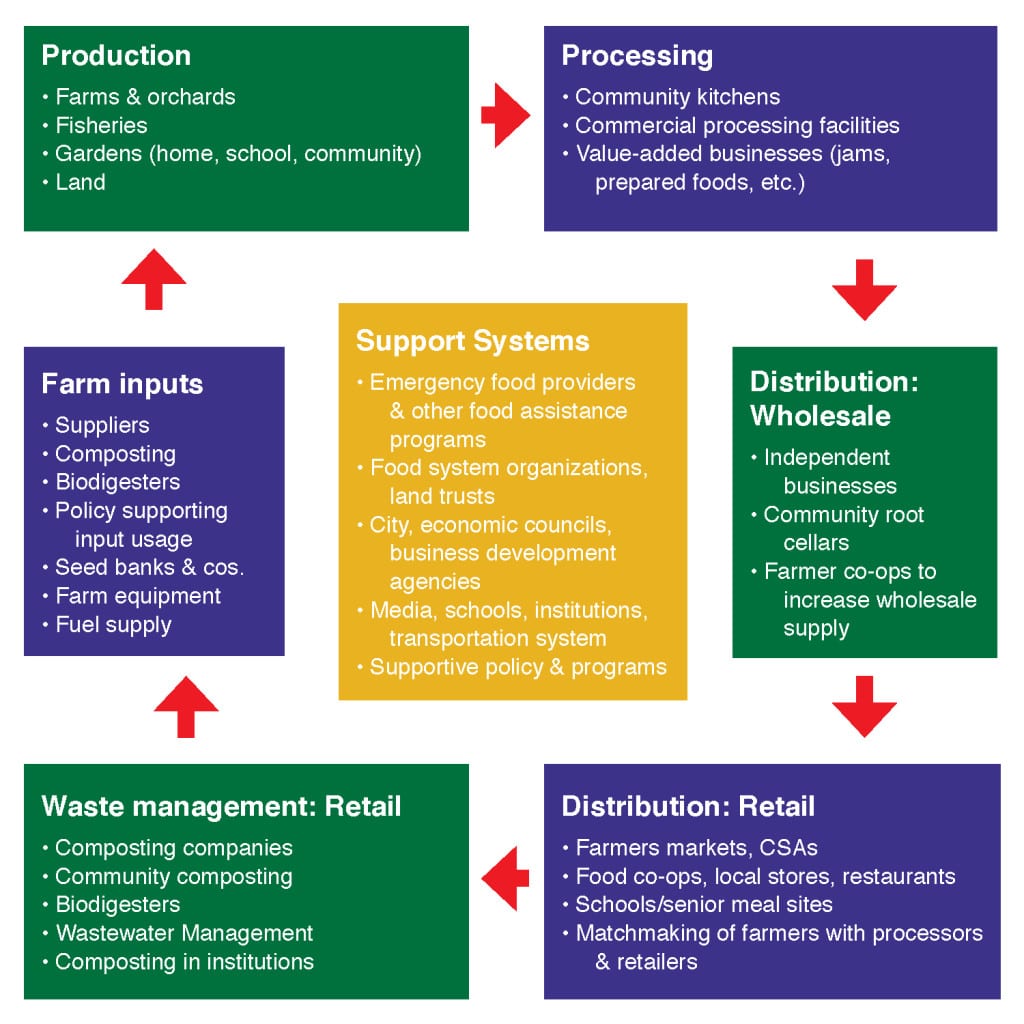 The diagram above is a simple representation of the steps in the food system supply chain, including the potential forms that some of those steps may take. What is missing from this diagram is how components of the supply chain are related to broader factors and values. There are many ways to illustrate this more complicated view—one helpful diagram was developed by the Community and Regional Food Systems (CRFS) Project, based at the University of Wisconsin-Madison, and appears below.