The public is invited to help put the finishing touches on an update to a Local Foods Action Plan for Lewiston and Auburn during a Community Workshop and Celebration to be held on Wednesday, October 25, 2023 from 4:00pm-7:00pm at the Hilton in Auburn.
The free community event, hosted by the Good Food Council of Lewiston-Auburn and the St. Mary's Nutrition Center, will include dinner highlighting local ingredients and connecting activities.  Stipends for participation, childcare, and language interpretation are also available as needed.
The event will be an opportunity to celebrate the successes of the initial Local Foods Local Places Action Plan developed in 2019, and continue forward momentum through the creation of an updated action plan and an emerging LOCAL FOOD VISION for the Auburn and Lewiston region.
In keeping with the spirit of the original action plan, participants will work together to bring forth a series of Goals and Actions with diverse municipal, organizational, and business leadership commitments that will support economic opportunities for local food businesses and farms; improve access to good food as well as  land to grow food for all communities and; help catalyze the food system and economy of Greater Lewiston Auburn.
Registration is free but requested by Wednesday, October 18 to reserve dinner and availability of some language interpretation services.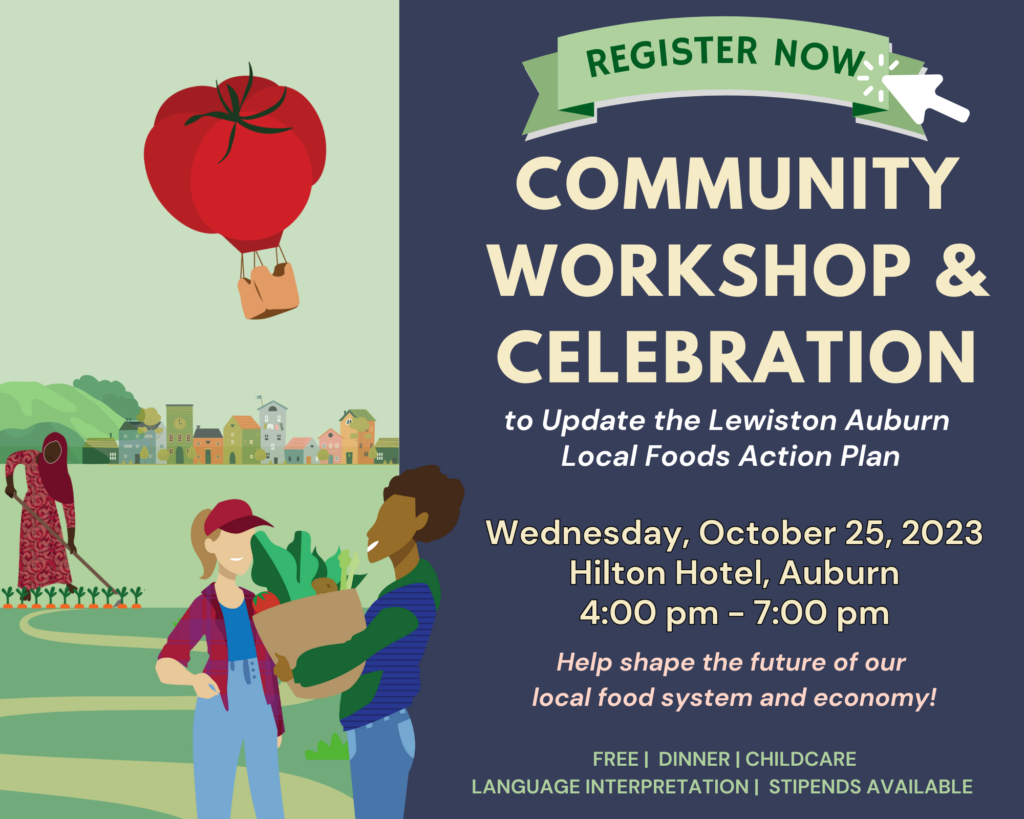 For more information or questions, please contact Julia at goodfood4la@gmail.com or 207-464-4800.
To register, please visit:  tinyurl.com/localfoodplanLA