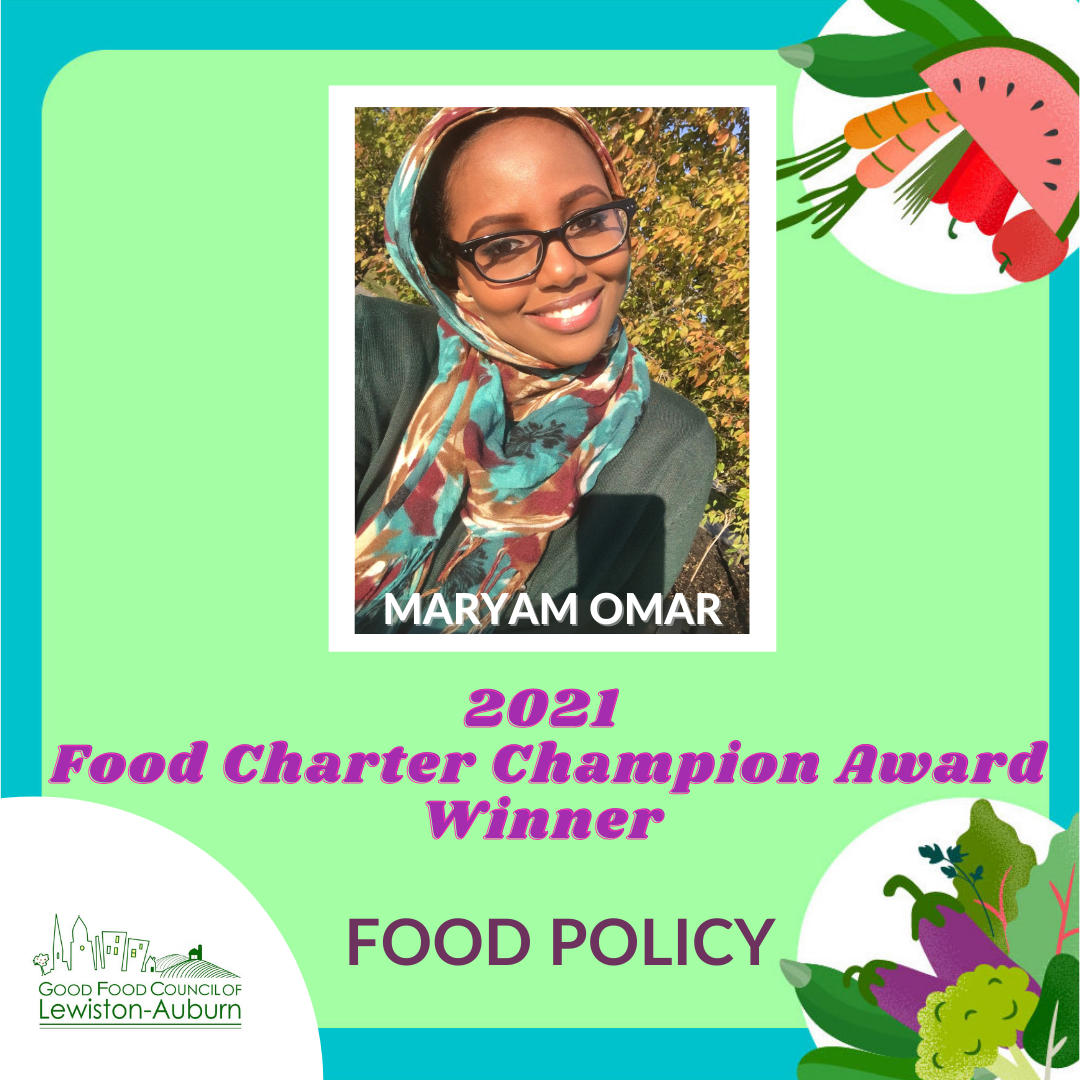 We are honored to give the 2021 Food Charter Champion Award for Good Food Policy to Maryam Omar.
Maryam is undergraduate at the University of Southern Maine, and during spring semester 2021, worked as a student intern for USM's Food Studies Program, joining a team of two graduate level students on a project to implement a consumer survey about preference, availability, and resources associated with sourcing local halal meat.   The research is being used by local farms, butchers/ slaughter facilities, and institutional buyers to help connect them in mutually beneficial relationships.  The research holds the potential to shift food purchasing policies of institutional buyers toward more locally raised halal meats.
Maryam's participation and willingness to conduct outreach and research in her community was critical to having the voices of Somali community members represented. The pandemic made outreach challenging, so Maryam met people where they were at – she talked with shoppers at grocery stores that sold halal meat about their preferences.
"There is definitely a demand for more fresh halal meat products in Maine", Maryam said, "There are simply some barriers to the necessary groups working together to increase supply.  This research project was trying to connect and build understanding across these different groups of people.  When we presented the research, people were excited. Hopeful connections were definitely made."
ABOUT
Each year, the Good Food Council of Lewiston-Auburn hosts the Food Charter Champion Awards by celebrating the contributions of five individuals or groups from the greater Lewiston-Auburn area who strive to create a more vibrant and healthy food system from farm-to-fork. Those honored with awards 'lead by example' in one, or more, of the five principles of the LA Community Food Charter.
Learn more about the other 2021 Food Charter Champion Award winners here.