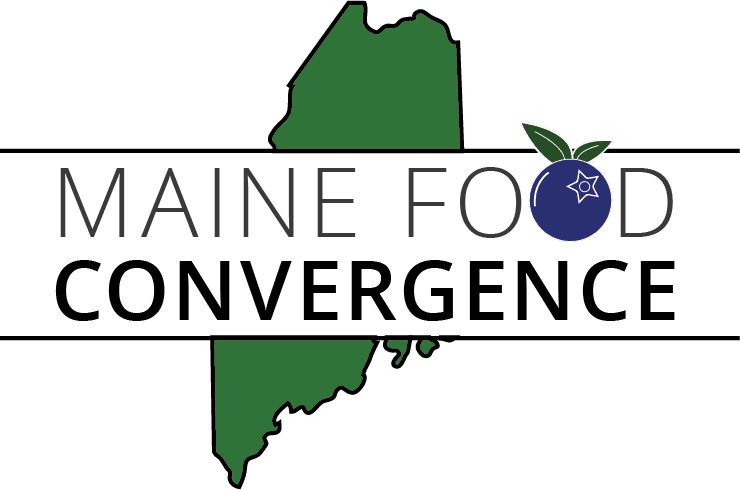 FORGING CONNECTIONS, BUILDING NETWORKS  
Join the Maine Food Convergence Project!
Maine has hundreds of organizations working to support a resilient food system with vibrant local farms, fisheries and distributors, and to address food insecurity and climate impacts.
Let's join efforts for Maine's food future!
The Maine Food Convergence Project is bringing together a broad and diverse representation of Maine's local food networks to:
Build greater connectivity and resilience within every corner of Maine's food system, especially those historically left out of the conversations;

Convene Maine's local food movements for deep, facilitated conversations;

Create new opportunities for collaboration from the grassroots to grasstops, leading to a state-wide food system convergence and active follow-up organizing;

Question our assumptions, identify common ground and move toward a shared vision of a food system that meets the needs of all Mainers while nurturing a healthy environment.

Your voice matters. 
Our collective success will rely upon collaboration and support from Maine's diverse array of food systems organizations, businesses, farmers, fishermen, and individuals like you. We need your voice to inform these conversations. And please share with others in your networks.
Please share your ideas in this survey by September 30, 2020.
2020 (Virtual) Regional Dialogues
Throughout Maine, Community Food Councils are working at the grassroots level to support Maine farming and fishing and to increase access to healthy food for all.  Through the Maine Network of Community Food Councils, several of these groups are helping to organize and host five Regional Dialogues across the state.
Follow the project Facebook page for updates.
If you care about, work on, or work in FOOD, please send an email stating your interest to your region's contact.
Aug 11, 2020, 9am-12am    MIDCOAST –  Sagadahoc/Knox/Lincoln   
MidcoastRegionalDialogue@gmail.com
Aug 18, 2020, 10am-1pm    WESTERN  Oxford/Franklin/Somerset    
WesternRegionalDialogue@gmail.com
Aug 20, 2020, 9am-12pm     CENTRAL  Androscoggin/Kennebec   
CentralRegionalDialogue@gmail.com
Aug 21, 2020, 10am-1pm   NORTHEASTERN Hancock/Washington/Penobscot Piscataquis/Aroostook/Waldo
NortheasternRegionalDialogue@gmail.com
Aug 28, 2020, 10am-1pm    SOUTHERN  Cumberland/York   
SouthernRegionalDialogue@gmail.com
At the Regional Dialogues, we'll be talking about:  
Food issues and opportunities that are important for your community.  
Information, contacts and experiences that you would like to take away from a statewide event.
Changes in Maine's food system in light of Covid-19 and climate related issues.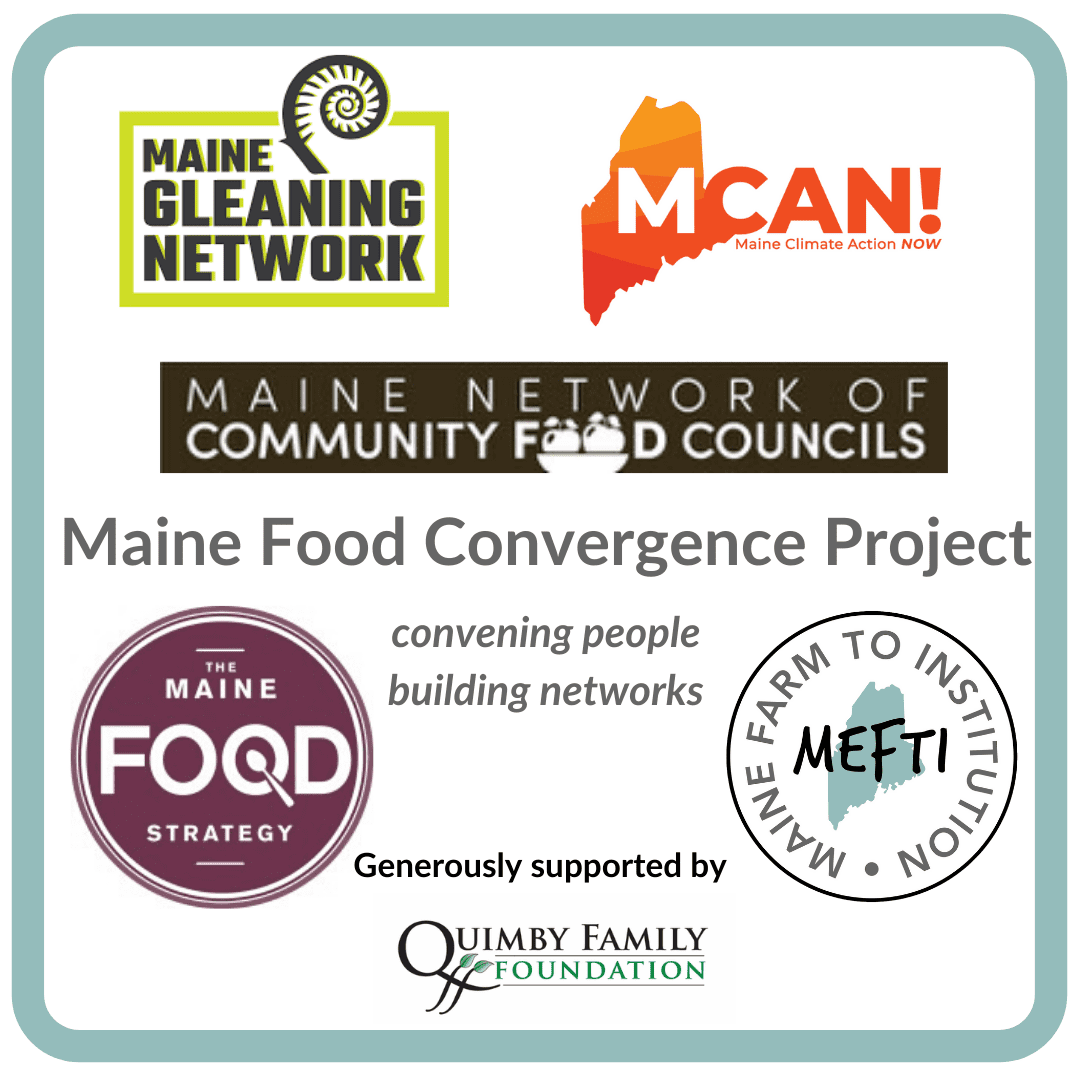 – Organizational Partners –
Eastern/Northern: Healthy Acadia, Waldo County Bounty, Bangor Food Council, Food and Medicine
Central: Healthy Communities of the Capital Area and Good Food Council of Lewiston-Auburn
MidCoast: Merrymeeting Food Council, Lincoln County Regional Planning Commission, Penquis Cap, Knox County Food Council, Maine Coast Heritage Trust
Southern: Portland Food Council/Cumberland County Food Security Council
Western: Community Food Matters, Greater Franklin Food Council, Local Food Connection
Aaron Frederick Consulting
Thank You to Our Generous Project Funders
Quimby Family Foundation
Elmina B. Sewall Foundation
Our Vast Team
Be part of the 2021 Statewide Maine Food Convergence
We're looking to February 2021 for a statewide event with information and experiences to help us all work better, more collaboratively and creatively to move toward a shared vision of a food system that meets the needs of all Mainers while supporting our local businesses and economy and nurturing a healthy environment. We all have a stake in the success of Maine food. No matter your perspective, you have a seat at this table.
We're looking for organizational partners to help design this event.  If your organization would like to be part of the planning committee, contact us at mainefoodconvergence@gmail.com.
For event updates, follow the project Facebook page. Or email mainefoodconvergence@gmail.com to be added to the event mailing list.