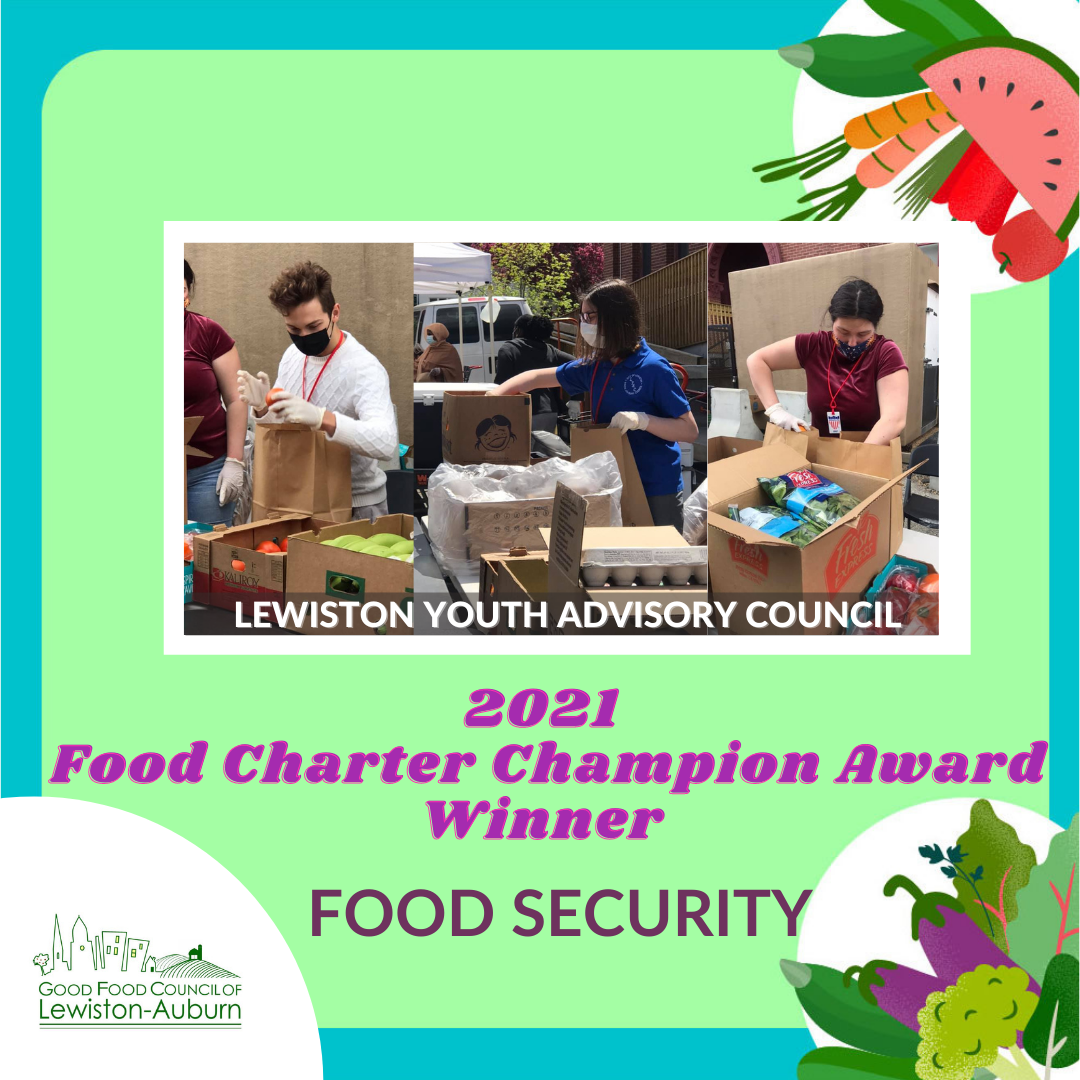 We are honored to give the 2021 Food Charter Champion Award for Food Security to the Lewiston Youth Advisory Council.
The Lewiston Youth Advisory Council (LYAC) serves as an advisory council to the Lewiston City Council in regards to community issues affecting youth, and serves as a liaison between the youth of the community and the City.  In February 2021, Carolyn Brady, Miss Maine 2019, brought food insecurity to the attention of the Lewiston Youth Advisory Council (LYAC). Brady had previously worked with the LYAC on an anti-bullying campaign and had lauded them as a group that gets things done. LYAC members quickly decided that they wanted to do something to address local food insecurity (or hunger).
To understand more about the root causes of food insecurity, and what programs and initiatives are already happening locally to address the issue, the LYAC invited local folks who work in the field to present to the LYAC, including Sheri Blumenthal, Community Programs Manager with the St. Mary's Nutrition Center, Rebecca Dugan, Children's Program Coordinator with the St. Mary's Nutrition Center,  and Julia Harper, Coordinator of the Good Food Council of Lewiston & Auburn.  Part of what the group learned was that hunger has been a long-standing challenge in Lewiston, and across Maine, which ranks 12th in the nation for food insecurity, and that the issue has been greatly compounded by the pandemic.   It was an eye-opening experience, and several LYAC members noted they were surprised to learn all the work that's being done to decrease food insecurity.   The information was particularly interesting to LYAC member Damon DeWitt who had interviewed–for another LYAC project–a representative from Androscoggin Gleaners, which is a group that also works to address fresh food needs and reduce food waste locally.
The LYAC was inspired to take action. The group initially thought of having a community panel discussion, but instead they decided they wanted to meet people where they are. They partnered with the St. Mary's Food Pantry on their May 14, 2021 food distribution day. Working with the pantry staff, LYAC decided to invest funds to purchase certain kinds of fresh food for distribution that is in high demand but is often difficult for the pantry to provide, including eggs, bananas, oranges, plantain, tomatoes, greens, and peppers.  The LYAC was able to donate $675 to purchase food – funds which were a combination of both from their own account (sponsored by the Lewiston Firefighters Association) and also raised from the community for this purpose. On May 14th, LYAC members also volunteered their time to take shifts at St. Mary's Food Pantry to distribute the food.
LYAC Chair Hope Rubito noted, "Food insecurity is prominent in Lewiston, and throughout Maine.  LYAC sees that and we want to contribute in any way possible to help those in need. Lewiston is our community, our home, and seeing our community members struggling with something like access to food is saddening and we'd like to combat that in any way we can."
July 2020 – July 2021 LYAC members:
Hope Rubito
Katie Morin
Damon DeWitt
Ariana Vallee
Julia Paquette
Olivia Deschenes
Keira Potvin
Brea Mathieu
Idey Abdi
Elena Clothier
Cadence Nadeau
Elissa Nadeau
Emily Fournier
Ryleigh Emmert
ABOUT
Each year, the Good Food Council of Lewiston-Auburn hosts the Food Charter Champion Awards by celebrating the contributions of five individuals or groups from the greater Lewiston-Auburn area who strive to create a more vibrant and healthy food system from farm-to-fork. Those honored with awards 'lead by example' in one, or more, of the five principles of the LA Community Food Charter.
Learn more about the other 2021 Food Charter Champion Award winners here.