The "Living the Food Charter" blog series is a "30 minutes or less" assignment we gave ourselves to help connect the LA Community Food Charter to our daily lives. Please excuse the casualness with which they are composed. We hope you enjoy!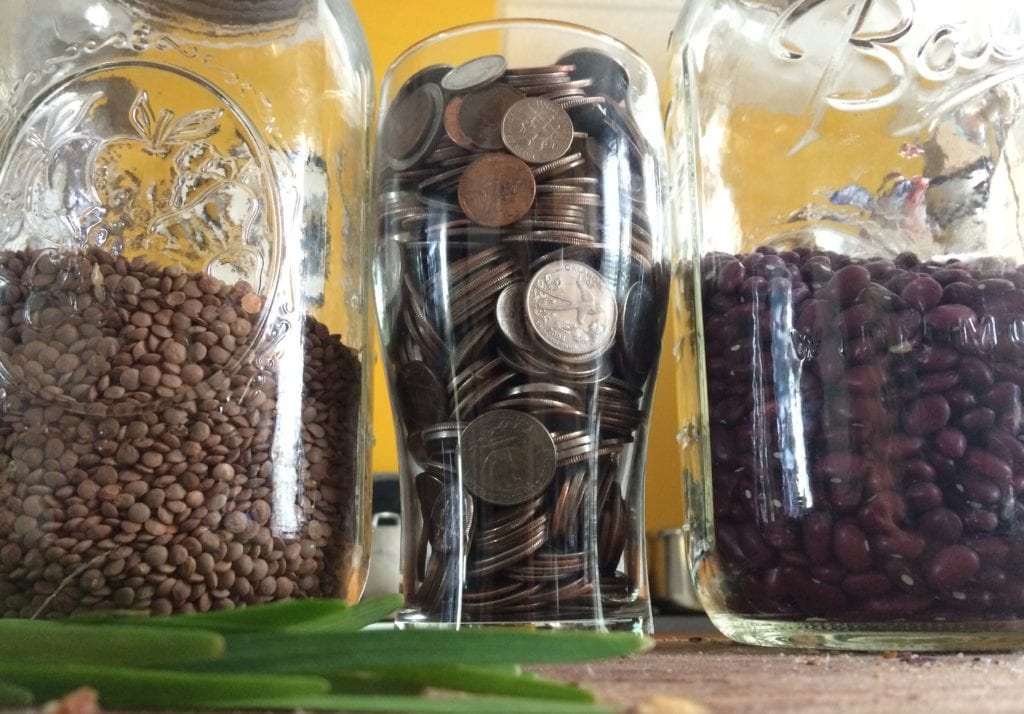 My kids grew up with a loose change jar on the kitchen counter. Everyone emptied their pockets each night and the jar filled quickly. Whenever it would reach capacity, we would share the profits with a family trip to the movies, a couple of rounds of mini golf, or a nice dinner out at a favorite restaurant.
The kids are almost grown, but the loose change jar remains. As a member of the Good Food Council of Lewiston-Auburn, I have a new appreciation for good food – healthy, affordable, accessible. This month I'm challenging myself and others to use loose change for good food. Some simple ideas come to mind: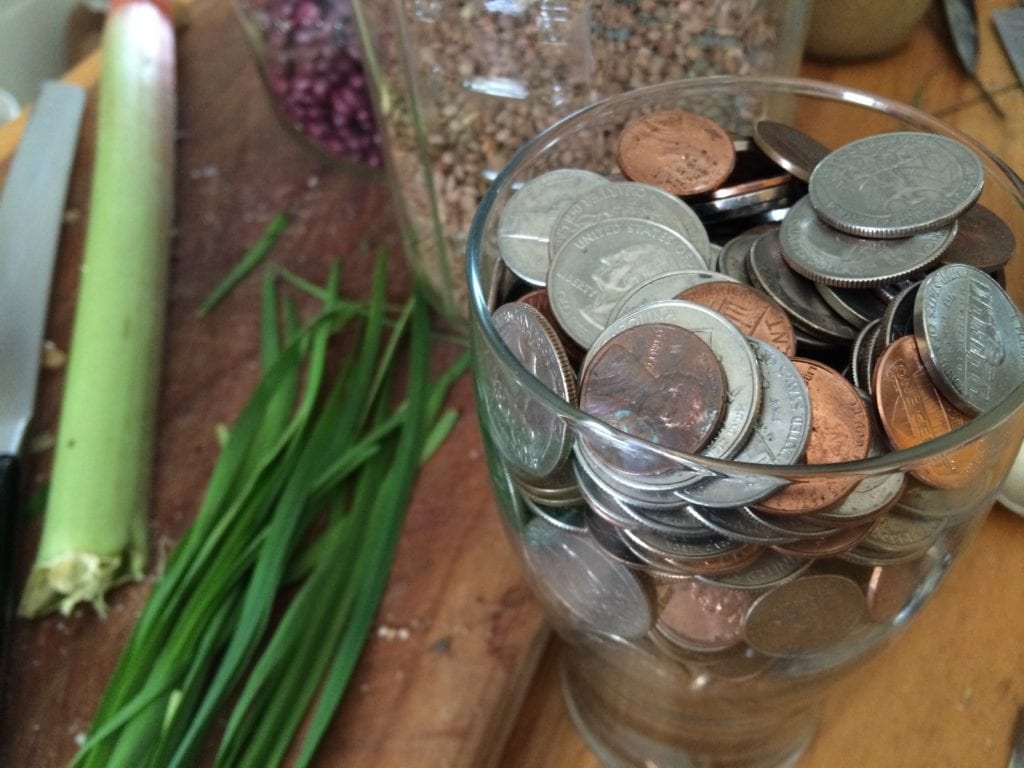 – Visit your local Hannaford and purchase some items rated with the one, two or three Guiding Star endorsement. Combine with your favorite fresh fruits and vegetables, stir up your creative juices and present a healthy and delicious meal for family and friends. Do your part to support our local Food Charter.
– Fill a recyclable bag with healthy food products and donate to the local food pantry of your choice. Just think, a hungry neighbor will go to bed and sleep well with a belly full of good food. Support food security for those in need.
– Visit the local farmer's market and enjoy the labors of your friends and neighbors who toil the soil so we can all have access to the freshest ingredients available to us. Support our local and sustainable agriculture.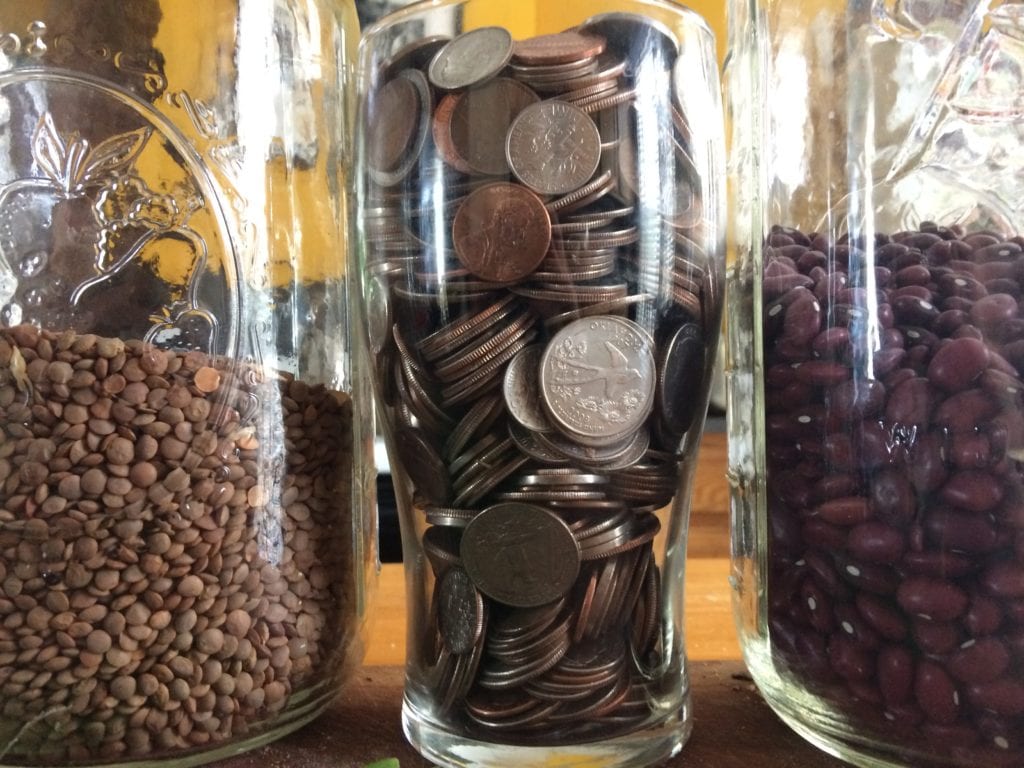 Keep collecting your loose change and enjoy the unexpected rewards!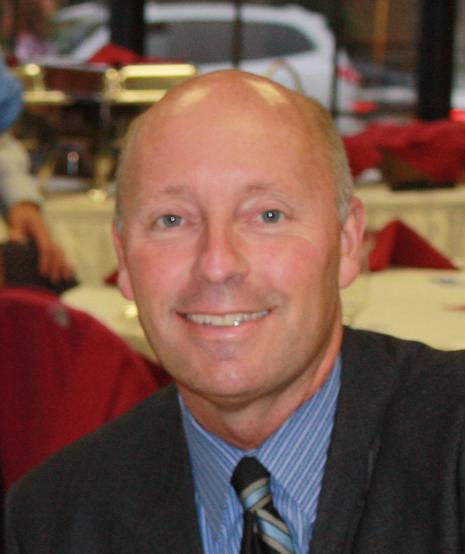 Author Bio:
René Dumont serves St. Mary's as the Vice President of Strategic Growth. In this role, René is responsible for strategic planning, business development, marketing, public relations and education. This position also provides strategic direction and operational oversight to the following departments: imaging, lab, pharmacy, rehabilitation and occupational medicine services, volunteers, safety and risk, as well campus facilities management. The senior leader in this role leverages the synergies that exist among these myriad departments in order to 1) achieve consistently high quality patient encounters, and 2) to position the organization for long term growth and sustainability.
René serves the community in the following ways:
– Maine Community Foundation – Androscoggin County Committee Member
– Lewiston-Auburn Public Health Committee, Member and Past Chair
– Androscoggin Home Care and Hospice, Board Member/Past Chair
– Androscoggin Head Start and Child Care, Advisory Committee Member, Past Board
Member/Past Chair
– Community Clinical Services, Board Member
– 2009 recipient of the Jim Phillips Award. "This award is given annually to an individual that exemplifies United Way's mission, vision and values. The recipient has a character of compassion that shows in his personal, family, business and social life."
René was born and raised in Lewiston, Maine. He received his BA/BS from Tufts University in 1984, and then proceeded to earn his MBA from Boston University in 1986. He welcomed the opportunity to return home to Maine in 1992, and is pleased to give back to the community where he grew up. He currently resides in Auburn with his wife, Julia. They have five children ages 25-17.