LA Region Farmland Access & Growing the Food Economy Conference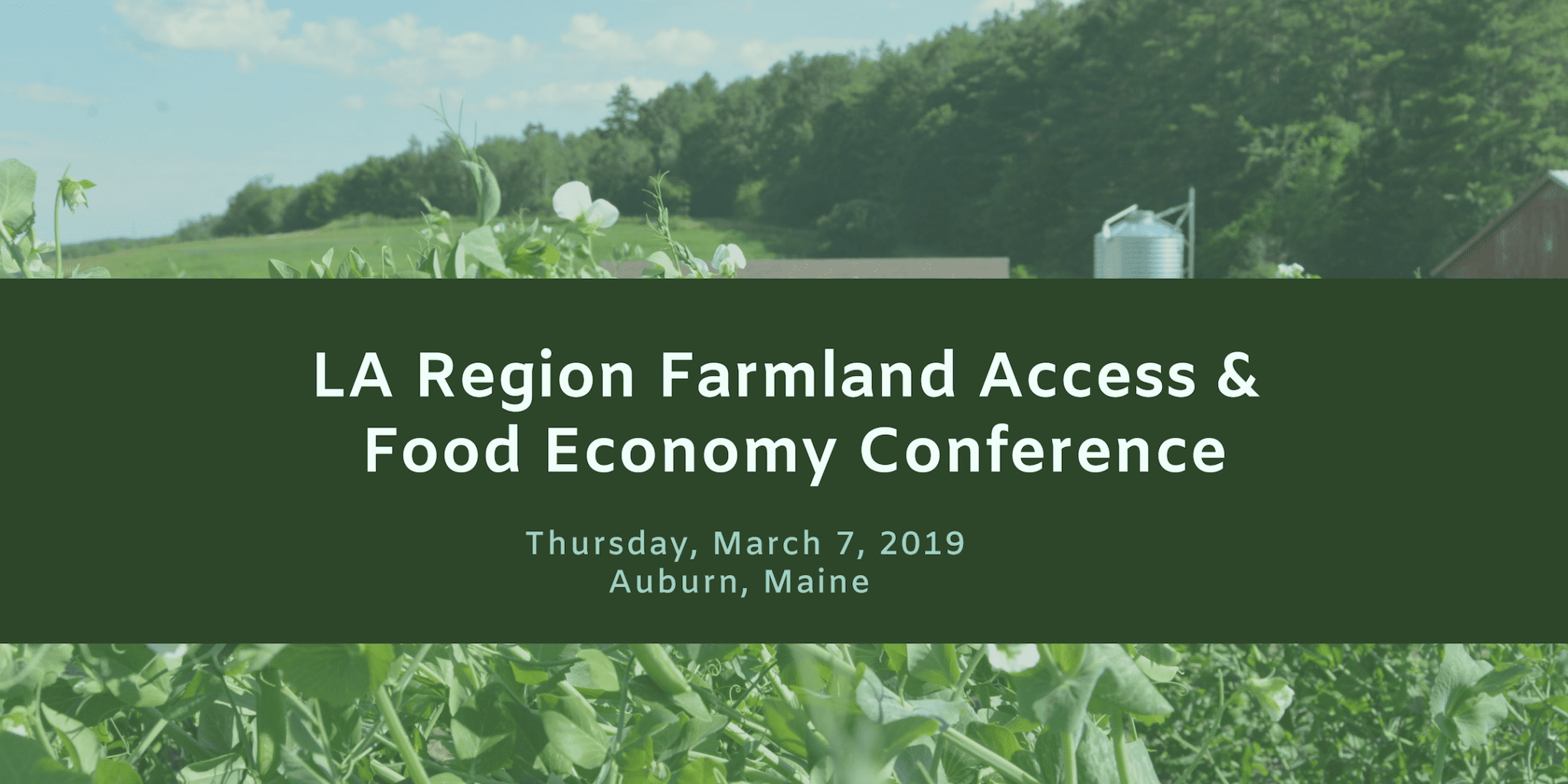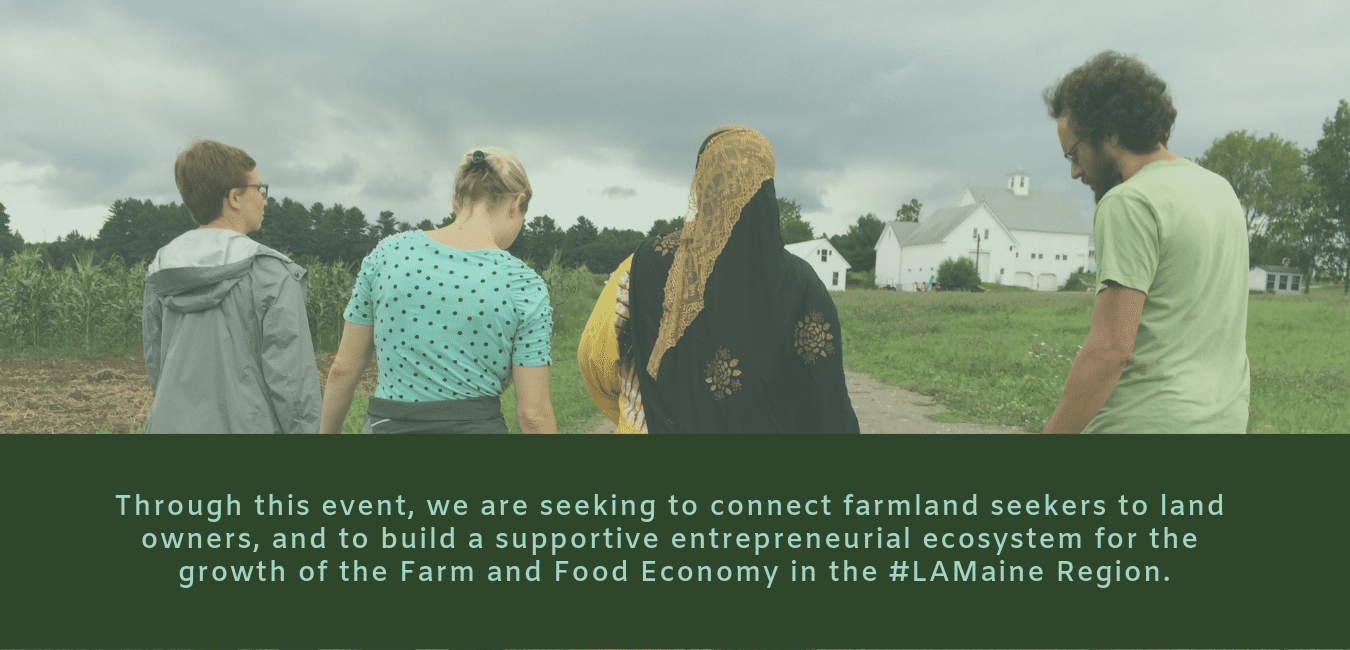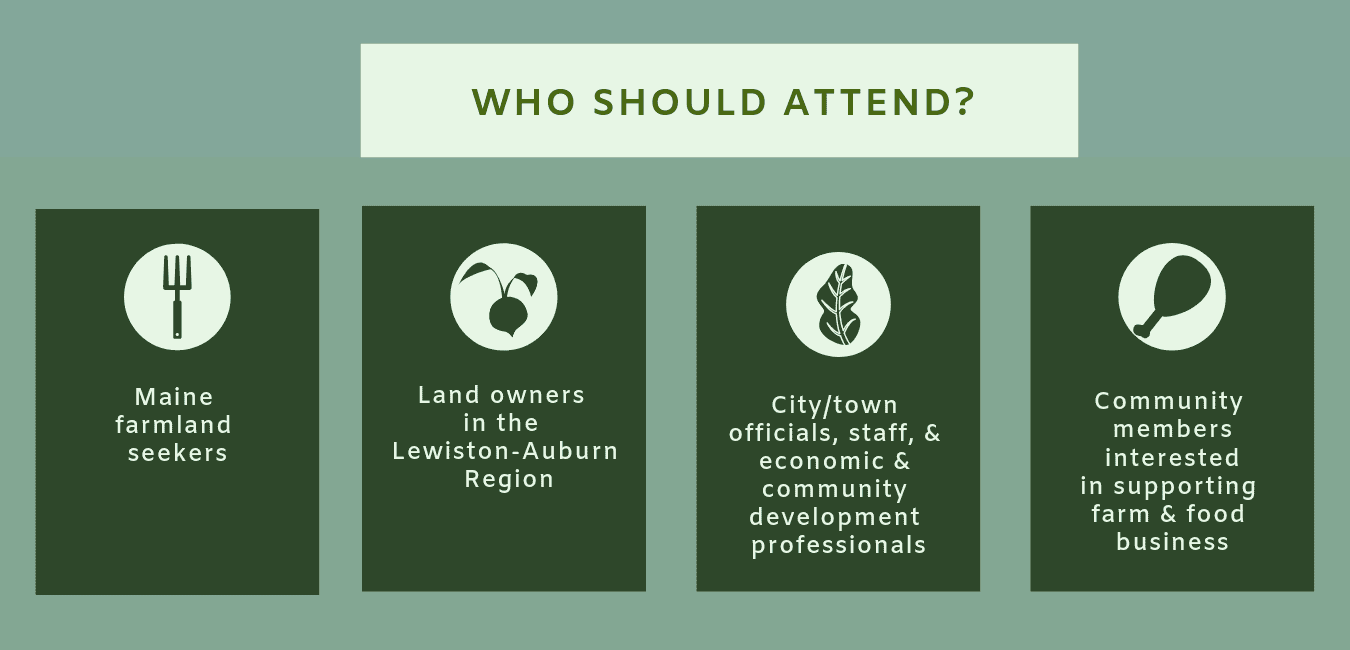 The Lewiston-Auburn (LA) Region has a historic opportunity to utilize abundant natural resources and springboard economic development in the Food and Farm business sector. Across the state, momentum is building as entrepreneurs, farmers, manufacturers, culinary professionals, and the tourism industry have been growing the food economy in Maine, and we have the potential in our region to attract and retain people to "Grow it Here." The LA Region is also rooted in farming heritage and contains vast farmland with prime agricultural soils. Many existing farm owners will be considering retirement in the next 5-10 years and much of this land will change hands. At the same time, the LA Region is home to many who are searching for land to farm.
Recognizing an opportunity for relationship-building and education around this historic opportunity and the abundance of options, the Good Food Council of Lewiston-Auburn — in cooperation with local, state, and regional partners — is organizing an LA Region Farmland Access & Growing the Food Economy Conference.

Why hold this conference now?
Agriculture is one of the largest sectors bringing younger people to Maine, with 40% of farmers currently aged 34 or younger. In fact, the State of Maine is the only state in the nation to experience an increase in the number of young and beginning farmers – those who are seeking to "Grow It Here".
There are over 100 New American farmers in the Lewiston-Auburn region who are starting farms and/or are searching for farmland close to LA to lease or own.
The City of Auburn is currently considering changes to its Agriculture and Natural Resource Protection Zone, within which 40% of the city's land mass – over 20,000 acres – is contained, and which also contains areas of prime and state-wide significance agricultural soils.
According to Maine Farmland Trust, less than 4% of Maine is prime agricultural soil. Of that, 1%  is already developed or in the process of being developed, and 1% is conserved. Those who believe growing the potential of local food in Maine, therefore, are working to keep the last 2% in working farmland production.
400,000 acres of farmland in Maine are expected to change hands in the next 5 years due to aging farmers and landowners, 400 million across the nation.
Maine has over 8,000 farms that produce $3.8 billion in sales and create 24,000 jobs according to Maine Farmland Trust.
In 2014, the City of Portland won a federal manufacturing designation for food and agriculture — just 1 of 12 awarded nationally — indicating a bright future for investment in food manufacturing infrastructure just 30 miles South of the LA region.
Current Planning Team Members & Contributors:
Abby Suduckas, Land for Good
Alex Redfield, Cultivating Community
Chris Carson, Auburn resident
Eliza Madden, Food Corps at St. Mary's Nutrition Center
Erica Buswell, Maine Farmland Trust
Ethan Miller, Wild Mountain Land Trust & Land in Common
Jonah Fertig-Burd, Good Food Council of Lewiston-Auburn & Cooperative Development Institute
Julia Harper, Good Food Council of Lewiston-Auburn
Kirsten Walter, Good Food Council of Lewiston-Auburn & St. Mary's Nutrition Center
Kristina Kalolo, Somali-Bantu Community Association
Shelley Kruszewski, Good Food Council of Lewiston-Auburn & Androscoggin Land Trust
Stephanie Gilbert, Maine Dept. of Agriculture, Conservation and Forestry
Would you like to get involved in event planning?  Contact Julia at GoodFood4LA@gmail.com