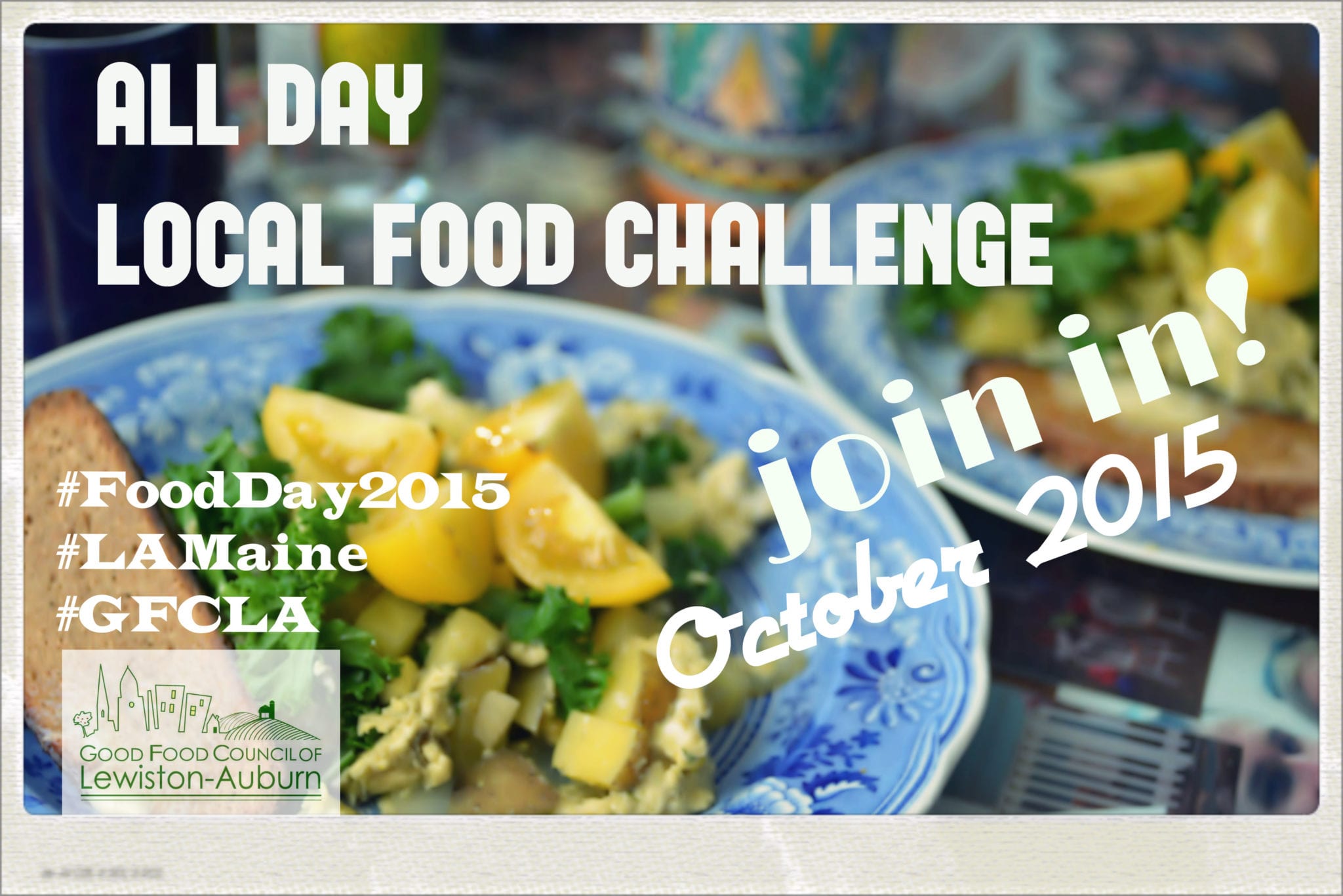 Members of the Good Food Council of Lewiston-Auburn have dreamed up this challenge as a way to celebrate Food Day 2015.  Each member will be participating in the All Day Local Food Challenge during the month of October and will be sharing their successes, failures and reflections along the way on the GFCLA facebook page.
We'd love it if you'd take the challenge with us!
THE CHALLENGE:
1.  Commit to EATING ALL LOCAL FOODS (with as few exotics as possible) for ONE FULL DAY (3 meals) on or before Food Day:  Saturday, October 24, 2015.
2.  If you're brave, also SHARE how it went (photos, successes, failures, thoughts provoked)  by uploading any of these things (we recommend a photo from your day + a personal reflection) to social media and use these hashtags (so we can find your post!):  #FoodDay2015  #LAMaine  #GFCLA
For the purposes of this challenge we have defined LOCAL as:
Grown/raised/caught within 100 miles from home.

….but you can also use your own definition.  That's part of the learning for this challenge!  What does "local" mean to you? And why?
We have defined EXOTICS as:
Anything that was grown/raised/caught more than 100 miles from home

Examples: olive oil, coffee, sugar, citrus, herbs/spices, non-local salt, pepper, non-local grains, non-local protein like soy or meat or beans, non-local fruits, non-local dairy…
This challenge will probably not be easy… That's why it is a challenge!
Here are some hints to help:
Plan meals AND do your shopping, ahead of time.
Get to your local foods store a few days before.
LA stores with an abundance of local foods:

4 Season Farm Market

(New Auburn)

Whiting Farm Stand

(Auburn)

Axis Natural Foods

(Auburn)

Tripp's Primal Farm & Kafé

(1056 Center Street, Auburn)

Forage Market

(Lewiston)

Hannaford

(Lewiston and Auburn locations, look for Close to Home labels)

Lewiston Winter Farmers' Market

(

Every 1st and 3rd Sunday thru January

, starting

Sunday, October 18th, 2015 from 10:00 am – 1:00 pm at the St. Mary's Nutrition Center 208 Bates Street, Lewiston)