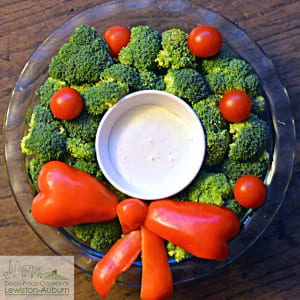 Here's a simple, healthy, and fun appetizer for winter holiday celebrations. Not only look does it look festive, but it brings vitamin-packed and major Maine-grown crop broccoli, to your holiday table (see seasonality notation at the end) .
To make this wreath appetizer tray, we used a round platter (actually, a pie dish), with a small bowl in the middle. We filled the platter with bite-sized broccoli and cherry tomatoes. Then, for the red bow, we sliced off a piece of a red bell pepper (which conveniently looks a lot like a bow), and then cut two strips out of the side for the ties. A ranch dip purchased from Axis Natural Foods in Auburn went in the center.  We also brought along a cup of garlic hummus as another dipping option, which was actually an even more popular pairing selected by partiers at the destination of this particular tray.
More on Maine Broccoli:
It is perhaps not widely-known that broccoli is a huge crop grown in Maine. Broccoli is in fact harvested July through early November for out-of-state markets primarily by farmers in Aroostook County with the help of seasonal migrant farm workers (an often overlooked group who's snapshot was recently taken thanks to a new Department of Labor study on Migrant Seasonal Farm Workers).
Granted, your broccoli purchased in December or January is unlikely to have been grown in Maine. There is a chance, however, that your winter broccoli purchase still does support a large Maine-based farm business that also grows green crowns in Florida during the winter months.
For parents and teachers hungry for more, Maine Ag in the Classroom and the Maine Nutrition Network offer a whole lesson plan on broccoli (just one of their many complete curriculum units available online for free) with stated goals of  increasing student's familiarity with broccoli, the student eating broccoli when it is offered to them, increasing student's awareness of the environmental benefits of composting, and increasing the student's understanding of nutrition… We learned about these educational resources at the last Androscoggin Farm to School Network gathering.
Happy green and good food holidays to you and yours! ♣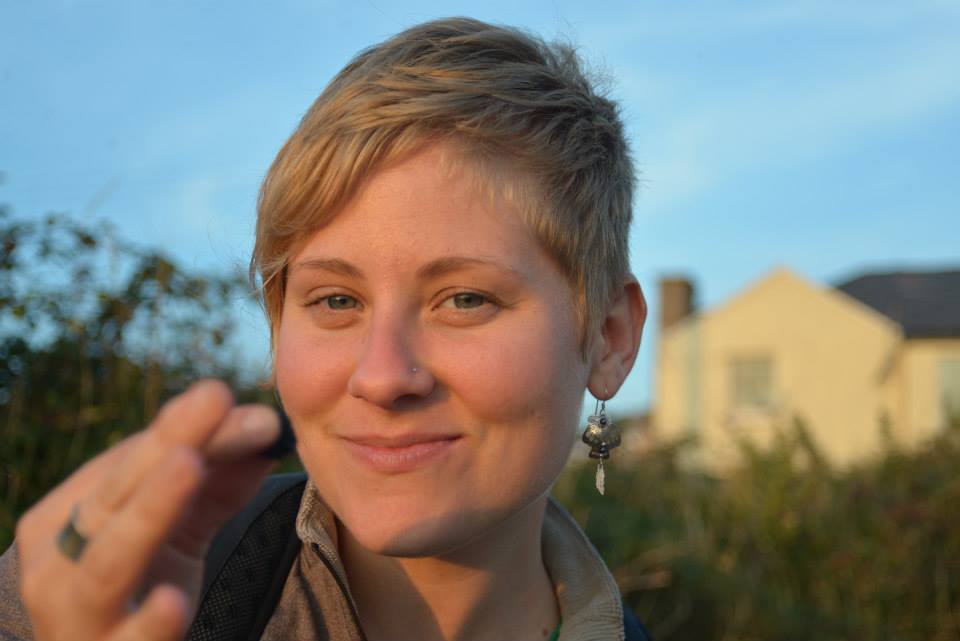 Author Bio:
Julia Harper has served as GFCLA's part-time staff Coordinator since September 2014. She is also the Tap Room manager at Baxter Brewing Company. Julia is engaged as a volunteer in several community-based efforts, including serving on the board for Grow L+A. She holds a degree in Sociology from the University of Maine. Julia is a resident and member-owner of the RAISE-Op Housing Cooperative in downtown Lewiston and lives there with her husband and two furry friends.