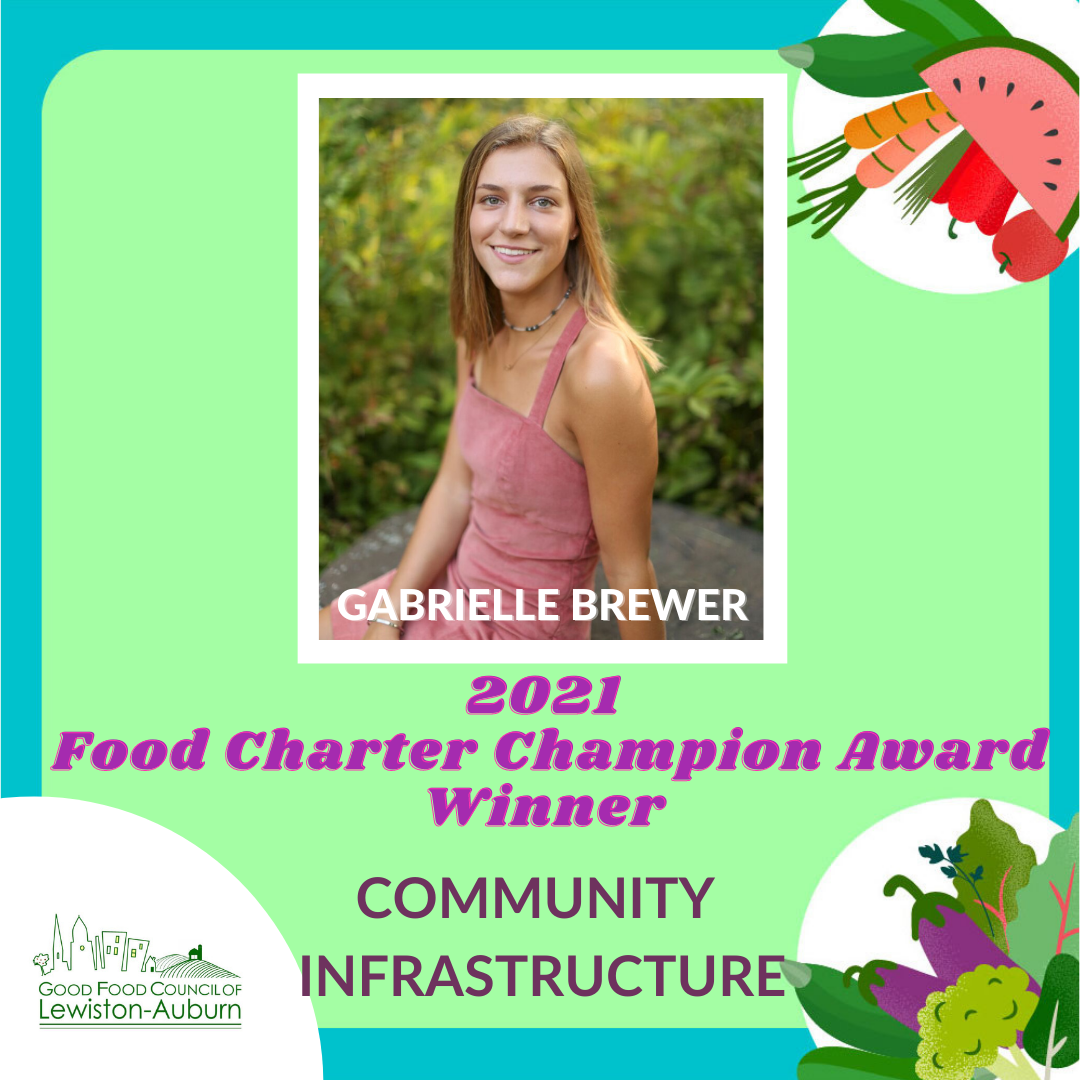 We are honored to give the 2021 Food Charter Champion Award for Community Infrastructure to Gabrielle Brewer.
Gabrielle serves as the President of the Bates Garden Club, and completed her freshman year at Bates College in 2021. During the last stressful school year, working alongside other Club members, Gabrielle organized weekly garden meet-ups for first-year students to build relationships and cultivate vegetables in a safe, outdoor environment. Gabrielle also supported the coordination of a fresh produce donation of squash from the fall campus garden harvest to a local food pantry when COVID regulations prevented garden contributions to the campus dining program. Throughout the year, Gabrielle also cultivated relationships with other students with similar passions that will step into Garden Club leadership roles.
Through her involvement in both the Garden Club and the Environmental Coalition, which focuses on environmental justice issues, Gabrielle was able to support the coordination for installation of a "pollinator garden" on the school campus in a place where non-native, ornamental plants are typically grown.
Pollinator gardens are those that feature flowering plants that are native to the geographic region, and thus provide the best nectar for pollinator insects, such as bees and butterflies. Native plants and pollinators have evolved together to adapt to the local soil, climate, and growing season. 
Gabrielle supported coordination of receiving a "green grant" from the college for pollinator garden installation, the utilizing of native plant seedlings grown by a biology class, and all the appropriate permissions to install the pollinator garden on campus.  Gabrielle shared that this project also could serve as a model for additional pollinator gardens to be installed on campus in future semesters.
Gabrielle is currently spending the summer in Maryland, conducting pollinator research with the Smithsonian Environmental Research Center. "I'm studying native orchids and pollination rates." Gabrielle said. "Pollination is critical for ecosystems and food security, and I am interested to learn more about how to continue supporting biodiversity."
ABOUT
Each year, the Good Food Council of Lewiston-Auburn hosts the Food Charter Champion Awards by celebrating the contributions of five individuals or groups from the greater Lewiston-Auburn area who strive to create a more vibrant and healthy food system from farm-to-fork. Those honored with awards 'lead by example' in one, or more, of the five principles of the LA Community Food Charter.
Learn more about the other 2021 Food Charter Champion Award winners here.