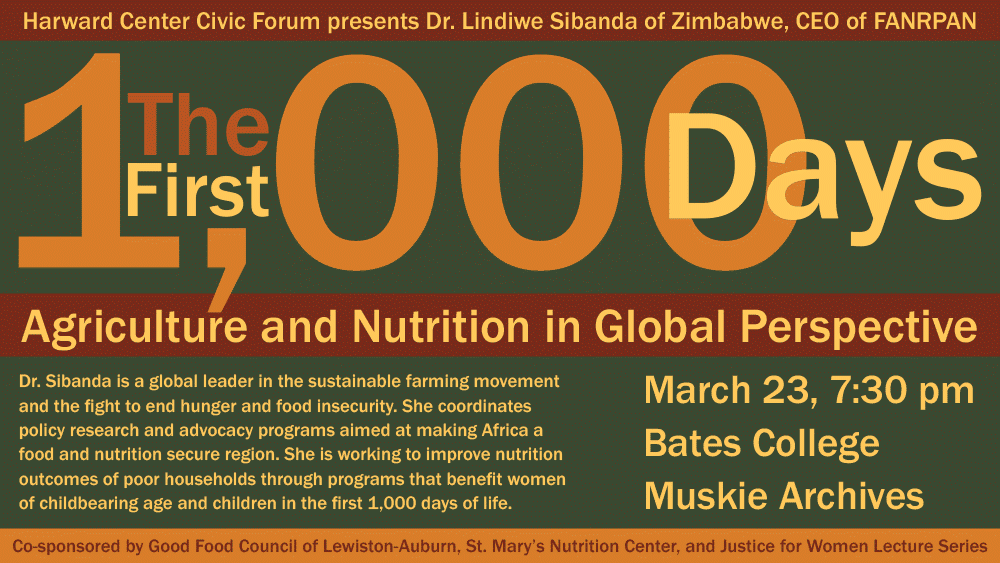 Civic Forum: "The First 1,000 Days: Agriculture and Nutrition in Global Perspective"
Dr. Lindiwe Majele Sibanda, CEO of FANRPAN (Food, Agriculture, and Natural Resources Policy Analysis Network)
Dr. Sibanda is a global leader in the sustainable farming movement and the fight to end hunger and food insecurity. She coordinates policy research and advocacy programs aimed at making Africa a food and nutrition secure region. She is currently leading the multi-country ATONU Project aimed at addressing the question, "What can agriculture do for nutrition?" This project seeks to improve nutrition outcomes in smallholder farm families and poor households through tailored nutrition-sensitive agricultural programs that ultimately benefit women of childbearing age and children in the first 1,000 days of life.
Co-sponsored by the Justice for Women Lecture Series of the University of Maine School of Law, The Good Food Council of L-A, St. Mary's Nutrition Center, the programs in Environmental Studies and Women and Gender Studies at Bates, and the Africana Club and Feminist Collective at Bates.