It's the time of again for first Summer Lewiston Farmers Market of the year. From 10 AM until 1 PM the parking lot at Bates Mill No. 5 will be filled with activity. There is abundant free parking and easy access to the venue.  If you've never been before, let us explain 8 reasons why we love the LFM:
1. Fresh food that supports our local economy.
Tasty, local and in season. Vegetables are grown in this area and picked when they are ripe. Nothing has been picked green, artificially ripened and trucked 15,000 miles. Shopping at the market reduces your carbon footprint as well as keeps your money circulating in our local economy
2. Activities for kids!
They might learn about new vegetables, get to know a farmer, or produce a masterpiece at the Artvan.
3. Beef, poultry, and eggs offered by the folks that raised them.
Dairy, bread, and pastries are made in small batches by local artisans. Herbal soaps, lotions, pottery and other products are available, too.
4. Enhance your envoriment.
With options of a variety of herb, flower, and vegetable plants for sale.

5. SNAP and WIC shoppers increase buying power by 50%!
6. Buy only what you need.
Need only two carrots? Nothing is pre-packaged, so you can get only what you need.  A boon for those of us who only cook for one or two.
7. Cash or Card.
The folks at the Information Booth can process credit card purchases for any vendor. Cash, of course, is accepted by all.
8. It's fun! Family-friendly, and dogs are welcome.
With music and friendly merchants, how can you go wrong?
Rain or shine, we hope you will join your neighbors and the Lewiston Farmers' Market, every Sunday 10am -1pm from now through October!  ♣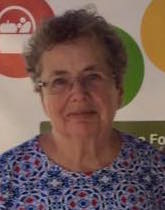 Author Bio
Leelaine Picker serves on the Good Food Council of Lewiston-Auburn. She retired to Maine from Connecticut after a career in non-profit management, predominantly in the child abuse prevention and anti-poverty sectors. Lee has a particular interest in food security and developing healthy, sustainable farm to consumer systems. She is a graduate of Hartford College for Women and Middlebury College and lives in Sabattus.