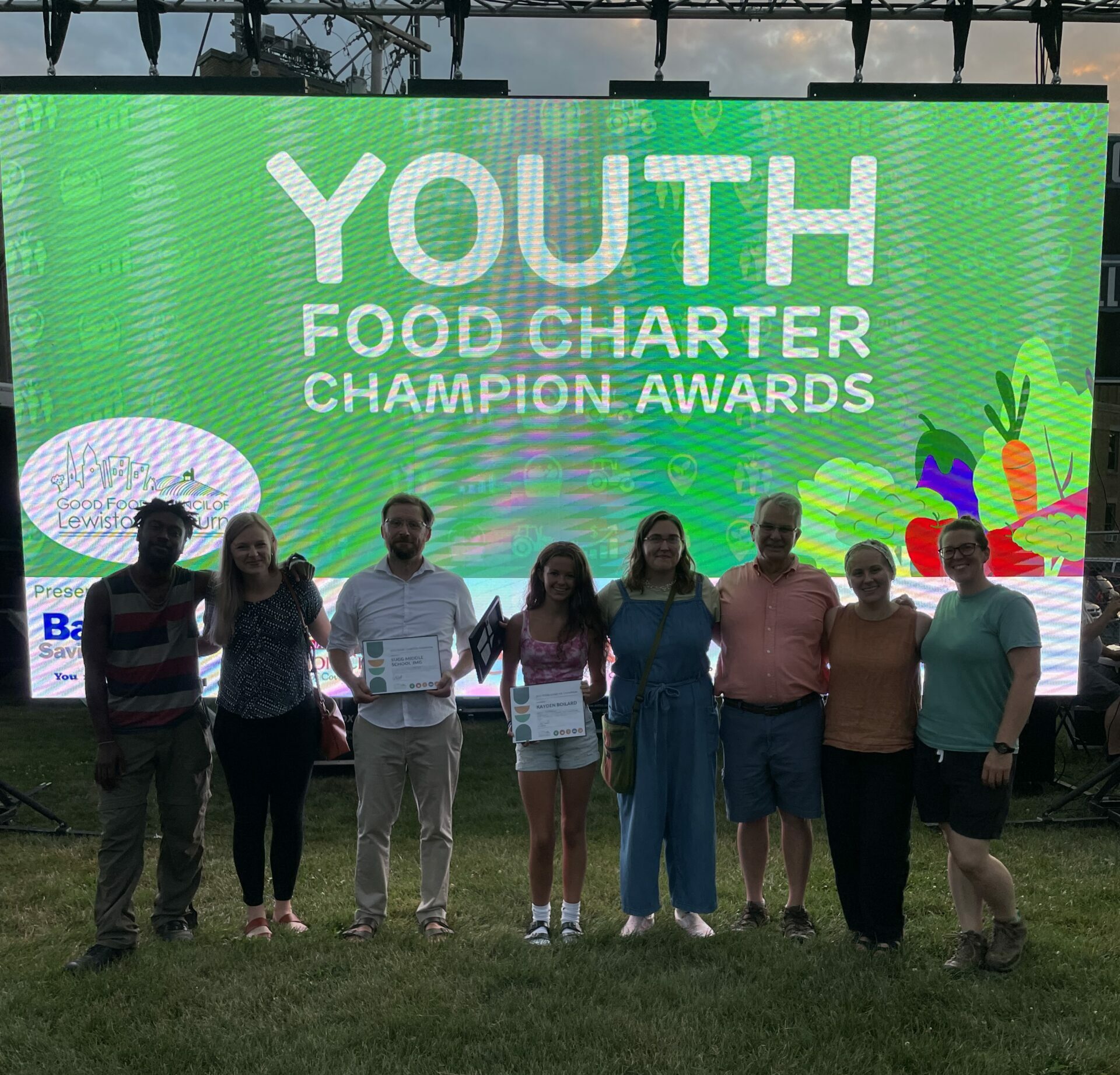 Pictured Right to Left: Winston Antoine (Award Committee), Blaine Flanders (Award Committee), Ryan Mckenney (Accepting Award on behalf of the Sugg Middle School Jobs For Maine Grads Program) Kayden Boilard (Accepting Award), Margaruette Seguin (Accepting Award), Jeff Newell (Award Committee), Julia Harper (Award Committee), and Katie Collins (Award Committee).
ANDROSCOGGIN COUNTY – This winter, the Good Food Council of Lewiston-Auburn (GFCLA) will host the 3rd annual 'Youth Food Champion Awards.' Up to five outstanding youth (individuals and/or groups) will be recognized for taking action to build a healthy local food system, from farm-to-fork.
Those eligible to win include individuals and groups ages 11-25 living in Androscoggin County (which includes Auburn, Durham, Greene, Leeds, Lewiston, Lisbon, Livermore, Livermore Falls, Mechanic Falls, Minot, Poland, Sabattus, Turner, and Wales). The public is invited to submit nominations to support the identification of youth winners online at goodfood4LA.org/awards.
Individuals or youth groups who have demonstrated one or more actions to help address or bring awareness to 'local food issues' such as hunger, sustainable agriculture, food waste, farmland accesses, food policy, and/or others, are encouraged to nominate themselves, or be nominated. Examples of actions of prospective winners could include:
Organized a fundraiser for, and/or volunteered their time at a local food pantry, soup kitchen, food bank, community garden, school garden, etc.




Spread greater awareness of the root causes of hunger through a research project and/or public presentation




Inspired their family to shop weekly at a local farmers' market (perhaps by utilizing Maine Harvest Bucks) or purchase a CSA share from a local farm




Advocated successfully at their home, school, or community group to start composting food waste

Was vocal to their school committee or school board in favor of culturally appropriate food options for all students




Fundraised, or was vocal about the importance of protection of land for food production.

Supported greater awareness of the value of community food infrastructure (such as community food centers, community kitchens, etc.)

Additional information about Award Categories, as well as profiles of the past youth winners, are also found on the GFCLA website.
In addition to a framed award, up to five winners will each receive a $100 Buoy Local Card, a $50 Gift Card to OTTO Pizza Auburn, 2 Movie Passes to Flagship Cinemas, and their efforts highlighted on the GFCLA website and through local media. Local businesses interested in donating family-friendly gifts to the prize package to uplift outstanding local youth are invited to email goodfood4LA@gmail.com or call 207-464-4800.
Awards will be presented at a to-be-announced, family-friendly free public event in early 2024. The presenting sponsors of the 2023 awards are Bangor Savings Bank, St. Mary's Nutrition Center, and Double Z Land & Livestock.
'Food Champion Awards' are given annually by the GFCLA to highlight efforts to create a more vibrant and sustainable local food system from farm-to-fork. Those honored with awards 'lead by example' in one, or more, of the five principles of the LA Community Food Charter. In the past, Awards have been given to entities; this is the third year that all awardees will be youth.
The LA Community Food Charter was launched in 2016 as a way to highlight the community's food values, build greater awareness and support for a more vibrant local food system, as well as provide a framework for discussion by community members and policy-makers. The LA Food Charter was the first of its kind in the State of Maine, and since its creation, two additional Maine communities have created their own: Western Foothills Community and Knox County. The cities of Auburn and Lewiston have endorsed the LA Food Charter, as have over 300 individuals, businesses, and organizations. Those interested to demonstrate their own support for, and commitment to improving our local food system from farm-to-fork are encouraged to sign the LA Food Charter on the GFCLA website.
The deadline to receive nominations is 11:59 PM on December 8, 2023. More information about the awards can be found at goodfood4la.org/awards. For questions call 207-464-4800 or email goodfood4LA@gmail.com.